Oregon Elopement Locations & PACKAGES
everything you need to know about eloping in Oregon…
You simply cannot go wrong with an elopement in Oregon. Why's that? This U.S. state is, well, extraordinary - filled with tons of amazing locations. Whether you love the forest, mountains, beaches, farms, waterfalls, lakes, or even the desert, Oregon has it all. You will find the perfect spot for any occasion, be it a small elopement or full wedding day.
But don't take my word for it! Check out my favorite elopement locations below that I've discovered through years of exploring the vast diversity of this interesting state. From Portland spots and the Oregon coast, to Columbia Gorge and Eastern Oregon, I'm here to help you choose the most scenic Oregon elopement location.
Without further adieu…
The Best Places to Elope in Oregon
Portland, OR

The Oregon Coast

The Columbia Gorge

Bend, OR

Eastern Oregon
… and much more info below!
What to know about eloping
| Check out this FAQ to get started! |
Weekdays tend to work best (Monday - Thursday)

I usually recommend weekdays, so Monday - Thursday. Some of the locations listed below get quite a few hikers/tourists, especially in the summer months, so planning for a weekday is a good way to ensure the minimal amount of strangers around as you say your nuptials.

Start your ceremony 2-3 Hours Before Sunset or Near Sunrise

Usually around 2-3 hours before sunset is the best time to schedule the specific ceremony start time for your elopement. This provides the best lighting for photos and will help if it is a hot summer day as the evenings will be cooler. The only exception is if you choose a waterfall! The waterfall locations are best before 9AM. Waterfall locations tend to get quite a few tourists and have smaller standing areas so in my experience arriving early before anyone arrives works well. But ask your photographer, they will be sure to help you out!

Make Sure to Pack What You Need (Proper Shoes, Warm Jacket, etc)

Wedding attire, of course! Or really whatever you want to wear. It can be fun to bring some favorite accessories - hats, scarves, jewelry, etc. Feel free to bring whatever you like and I can totally assist with styling. Make sure to do some research regarding the usual weather around your elopement date so you can prepare for that. Sometimes it is wise to bring a very warm coat, rain jacket, or umbrella. Good walking shoes as a must for many of the locations. You can wear those for any hiking and switch into more formal shoes while shooting. You may also want to bring a couple snacks in case you are the type to get hangry (like me), water, and maybe some champagne or a beer or two. :)

Make Sure To Get Your Marriage License & All The Legal Stuff Completed

This includes info on the marriage license, who can marry you, who can be a witness, etc. Click here for all the info. One fun fact: your photographer can act as a witness! So you just need to bring one more friend along. :)

Pick a Date Between The Late Spring To Early Fall for The Best Weather

The weather in Oregon can be a bit unpredictable as it does get a lot of rain during certain months of the year. However, in western Oregon (the rainier area) June - September boost the lowest chances of rain and comfortably warm weather. End of May and early October can also work well but sometimes the chance of rain does increase around that time. Bend / Eastern Oregon has a completely different climate and can work all year-round for elopements since it gets much less rain than in the west.
Oregon Weather information
| Monthly Average Temperatures and Precipitation |
May - September tend to be the warmest, driest months of the year and the best fit for most elopements.
elopement inspiration
| from the blog |
Where to Elope in oregon?
| Here is our elopement location winner list |
Downtown cityscapes, deep forests, and all the food you can eat - with a ton of amazing spots for a Portland elopement.
Portland
Portland is Oregon's biggest city resting peacefully on the Columbia and Willamette rivers. It's a city that prides itself on the arts, such as music and the theatre, making it a creative choice when it comes to your elopement.
Here is a list of specific locations that are fantastic for elopements and within 30 mins from downtown Portland…
| Hoyt Arboretum |
A short two miles from Portland city center, you'll find Hoyt Arboretum - an intimate nature center and botanical garden decorated with trees, providing you with serenity and peace. This non-profit organization is available for rent, offering a secluded meadow especially for special occasions, that is rustic and natural, giving you a piece of tranquility inside the hustle and bustle of the big city. And for under $300 for the entire day, you're looking at a budget-friendly and naturally beautiful location for your special elopement.
| Washington Park |
For seemingly everything under the sun, Washington Park is a culturally diverse and interesting location for an elopement. Here, you'll find gardens with picnic spots, museums, sports grounds, a zoo, and a forest, and can enjoy a day to remember with the ones you love and exceedingly gorgeous flowers and landscapes.
Securing a spot for your elopement at Washington Park is as easy as 1,2,3. Fill in their registration form (https://washingtonpark.org/weddings/) and schedule your desired date and time. A permit is required for parties bigger than a couple, an officiant and two witness, so bear that in mind before planning your day.
| Mt Tabor |
This 636-foot mountain is, in actuality, a dormant volcano, and is perfect for adventure-seekers who adore natural beauty. I personally love the idea of an elopement at Mt. Tabor, as it offers guests the opportunity to explore (or even hike) the surroundings, creating several interesting and beautiful spots for lovely photographs.
| Cathedral Park |
Described as a "heavenly experience," Cathedral Park is a neighborhood in Portland found on the banks of the Willamette River. This location is a juxtaposition of chaos and serenity, as just above it lies the St. Johns Bridge filled with commuters, yet a stroll beneath offers natural calmness.
Here, couples in love can enjoy 23 acres of greenery, and an elopement at the beautifully-constructed amphitheater, made purposely for special events. This location never ceases to amaze me, and it's one of my favorite places to photograph.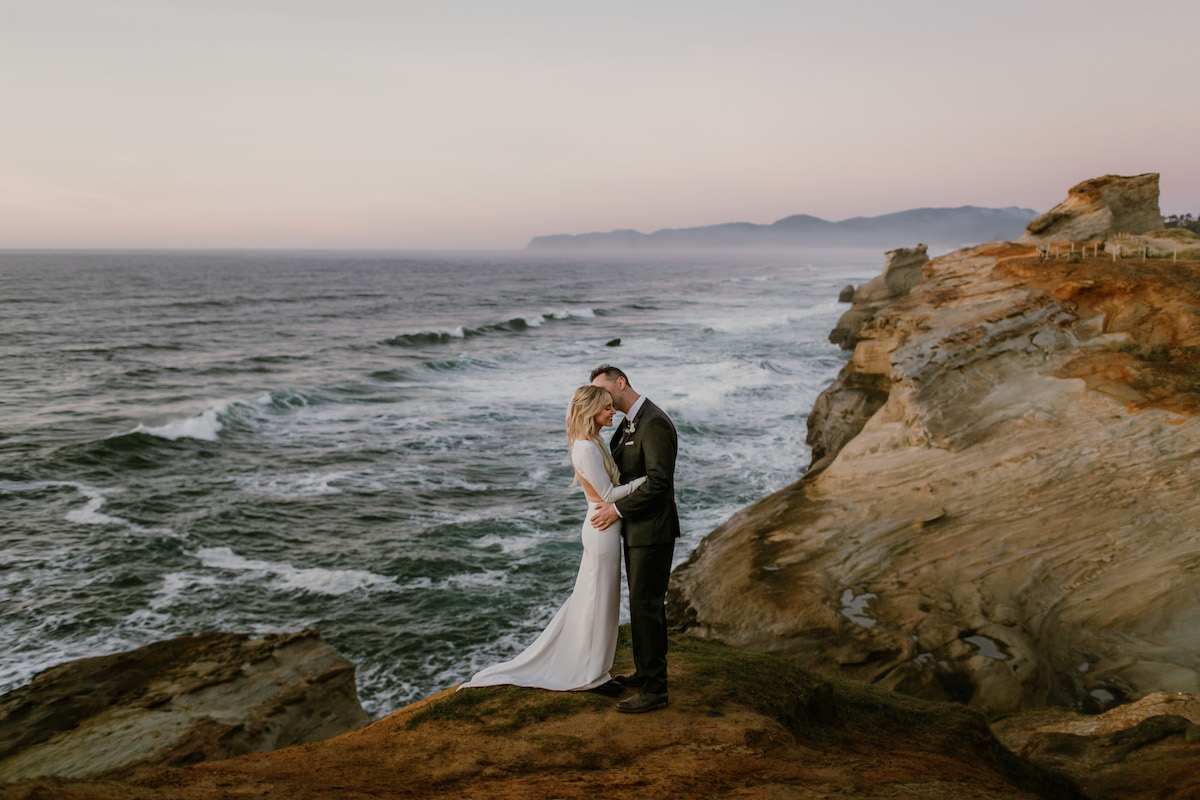 One of the most picturesque locations in the country - elopements at the Oregon Coast are wild, wonderful, and breathtaking.
THE OREGON COAST
Fancy a beach elopement? The Oregon coast is 362 miles of sheer beauty, with several spectacular locations for weddings.
Here is a list of locations that are amazing for elopements with breathtaking views…


| Cannon Beach |
This small coastal city boasts long sandy shores, tidal pools, beach coves, and sea caves. You can also enjoy the sights of the lighthouse, or find a quiet spot to enjoy a picnic. Another attraction in Cannon Beach, is Haystack Rock, a landmark that stands 235 feet tall and often sees the likes of adorable puffins.
| Ecola State Park & Indian Beach |
Ecola State Park can be found between Seaside and Cannon Beach and is nine miles of gorgeous coastline. Visitors adore this location not only for its natural scenery and viewpoints, but also for its hiking and surfing opportunities.
But what many people don't know is, this venue doubles up as an equally impressive and intimate location for couples to elope. Create the perfect background of sea and sun, and celebrate your love with close friends and family at Ecola State Park. There is both great viewpoints and beach access via Indian Beach.
| Cape Kiwanda |
Cape Kiwanda is well-known for its waves, making it an excellent spot for boats as well as kite flying and hand gliding. Take a peek at the exquisite views from the sand dunes that includes a haystack rock and the sea. This is also a popular whale watching destination!
Eloping at Cape Kiwanda however, is even more adventuresome than a simple day outing. Here, you have the freedom to roam the sand dunes, hills, and rocks to get several different landscape views, and having the haystack in plain sight only adds to the natural charm that is this versatile and romantic location.
| Yachats |
This small coastal city in Oregon is beautifully located between the green forest and the blue sea, and is a place that resembles a happy, small town with friendly locals and natural landscapes. There are tons of fun things to do here, such as whale watching and hiking, but my favorite – is photographing two people in love.
The best beach access is in front of the Overleaf Lodge. The rocky coastal setting is quite epic while also being easily accessed.
| Hug Point |
A mere five miles from Cannon Beach, you'll find Hug Point – a recreational site full of elegance and natural beauty. Here, you can enjoy a picnic by the beach, a seasonal waterfall, and tidal pools that are tons of fun during low tide. There are also huge warmly colored limestone formations that are stunning. Which is why eloping at Hug Point is such an excellent idea.
Imagine standing next to the one you love, on the beach and in front of a natural cave that is situated beside a waterfall! Tying the knot here is like taking every beautiful aspect of nature and placing it in one place, creating the perfect landscape for panoramic bliss.
**Please note: make sure to look up the tide times for Hug Point. You'll want your ceremony to be at towards the beginning of low tide if possible or parts of the area become inaccessible.
Stunning overlooks, hundreds of waterfalls, and a pit stop in Hood River for a great beer - the Columbia Gorge is a favorite location for elopements.
THE Columbia Gorge
Columbia Gorge / Mt. Hood is definitely a top choice when it comes to eloping, or a simply day-trip to be fair, as there are fun events taking place here all-year-round. People flock to the location for hiking, waterfall admiring, a few beers with friends, and lots of adventure.
| Wahclella Falls |
Wahclella Falls is a waterfall that runs along Tanner Creek, and is divided into two segments. And what makes this location so special is the fact that the water runs almost year-round, due to its underground spring source. I love visiting this waterfall for its tranquility and solitude.
So, it comes as no surprise to admit that photographing couples during their elopement in Wahclella Falls is always a treat. It's the perfect spot to invite a handful of your nearest and dearest, and to be blown away with love and nature. To get here, you'd have to do an easy one-mile hike, but trust me – when your significant other sees you appear on the beautiful bridge in front of the falls, it's all 100 percent worth it.
| Latourell Falls |
Found along the Columbia River Gorge, Latourell Falls (pictured above) is a waterfall that drops straight down from a cliff, making it unique in comparison to other tumbling waterfalls. To compliment this beautiful sight, there are several bridges, making it a perfect spot for photographs.
For couples looking for a simple and natural elopement, this location couldn't be more perfect. Picture the morning mist in spring, or the sunset in summer alongside your favorite person.
| Government Cove |
If you're looking for a locations with vast views of the Gorge for your elopement, Government Cove is an excellent choice. It has interesting rock formations, a far-reaching shoreline, and a few spots that show off a fantastic river view. It's completely magic at sunset.
*Important tip: there are no restrooms at Government Cove, nor drinking fountains or picnic tables.
| Rowena Crest |
If you're looking for a more creative natural landscape in which to tie the knot, Rowena Crest is a true win. The one and a half-hour drive from Portland will take you to this location, and here you'll have views of the gorge as well as the horseshoe curve along the road.
With wild flowers in the spring and dramatic cliffs all year round, an elopement at Rowena Crest is a location that deserves time and adoration.
| Timberline Lodge & Mount Hood |
At nearly a century old, Timberline Lodge is the ultimate high-alpine mountain people flock to for bouts of skiing and a relaxing time off. And what's also great, is that they offer the perfect nook for those looking to elope. This venue is blessed with breathtaking views and rustic charm.
Pining for a winter elopement? Enjoy the snowy slopes at Timberland Lodge with the ones you care about most.
The climate completely changes when you head out east. Dryer weather and some interesting desert-like backdrops make this a very different, but amazing, side of Oregon.
Bend + EASTERN OREGON
Bend is a small city in Oregon, oftentimes known as "the outdoor playground of the West." Why? Well there are so many fun things to do here, such as visiting the local brewery, checking out Mt. Bachelor for some skiing, or seeing a summer concert at the amphitheater. But, it's also a magical city in the middle of some of the most beautiful scenery in Oregon.
Imagine standing next to your partner with views of deep river canyons, red rock cliffs and mountains, with the chance of spotting golden eagles or falcons. Sounds like a dream come true? Then Smith Rock State Park is a stunning choice for your elopement.
It's an intimate and romantic spot for couples in love and provides some of the most breathtaking views for gorgeous photography.
| Sparks Lake |
To visit Sparks Lake is such a pleasure. Seeing the reflection of South Sister, the tallest of three peaks, in the water and being surrounded by a pine forest is so picturesque, it is a must-see not only for those looking for a tranquil outdoor spot to elope, but also adventure-seekers and outdoor lovers.
Allow nature to be your aisle, and greet the special people in your life with the backdrop of the Cascade Mountains. Breathe in the fresh air, and adore the calm ripples of the lake while making a beautiful commitment to the one you love.
| Painted Hills |
One of the 7 Wonders of Oregon, Painted Hills has the ability to take anyone's breath away. The hills here are beautifully-colored stratifications, showing off gold, black and red in a way that looks like it is from another planet. A true masterpiece created by nature. I have yet to go see it in-person but I've looked at the photos online over and over again just dreaming to shoot there. Its magic.
| Steens Mountain |
Steens, otherwise known as Oregon's Secret Mountain, is one that has not gained the attention it deserves. It mimics an almost desert-like appearance, as it receives almost no rainfall, and is a seemingly endless ground of cracked earth.
So, if a desert-style elopement seems right up your alley, then Steens Mountain is simply the most gorgeous natural marvel for you and your partner. Wait until the sun sets and feel the earth cool down beneath your feet. With wide open spaces, and beauty surroundings, your elopement will be the start of something truly amazing.
Surrounded by tall snow-capped mountains as well as a large lake, Wallowa Lake is graced with wilderness trails, and allows you to participate in a number of fun activities, such as horse riding, go-karting, and canoeing. Here, you can also ride the tram to the top of the Howard Mountain, allowing panoramic views at almost 8,000-feet high.
| Owyhee Lake |
A gorgeous reservoir, in fact the longest in Oregon at 53 miles, Owyhee Lake is naturally beautiful with clear blue water and surrounding trees. This deep canyon is decorated with colorful volcanic rock formations and rugged mountains, and makes for an excellent spot for a scenic elopement.
Oregon Elopement Packages
Need photography for your elopement? I got you covered.
Hello! I'm Catalina.
a wedding and elopement photographer based in Oregon.
I absolutely love elopements and can help with choosing a perfect location, creating a custom timeline, etc! I'd be honored to be considered to be your elopement photographer extraordinaire.
ELOPEMENT PHOTOGRAPHY PACKAGE
- Up to 2 hours of Coverage
- Online Gallery of Creatively Edited Images
- Unlimited Downloads + Printing Rights
- 2 hours of travel within Portland, OR
$1500
*Please note elopements must take place on weekdays (Monday - Thursday) for less than 20 guests, but feel free to reach out as custom packages are available.
Additional Elopement Vendors
///