Bend Wedding Photography
Catalina Jean // Wedding Photographer Servicing Bend, Oregon
GETTING MARRIED IN Bend?
A bit about me and what I love about Bend, Oregon weddings…
- I have two crazy Boston Terriers
- I photograph weddings mainly in California & Oregon
- Bend and the surrounding area are some of my favorite backdrops for photography
You found this page most likely because you are getting married. Most likely its your first time planning a wedding. Most likely you have ended up on The Knot or deep in a bridal magazine or mind-numbingly scrolling Google with a cocktail in hand and no idea on where to start this whole planning thing.
First, of course, you get your venue booked (check out the list of recommended venues below!). Gotta get that date secure. Second, the photographer (maybe me?? Haha, kidding a bit there - but check out my work and if you're feeling it, lets chat!). But if you are on step two and are needing a photographer, you can read more to find out a bit more about me and why I am head over heels in love with Bend, Oregon. I know the area very well and love to go back whenever I can.
My style is natural meets minimal, real meets adventure, great light meets the great outdoors. From intimate interactions and big moments to various pieces of décor and architecture. In vast deserts or tall mountains or open fields or maybe just that simple downtown street you love. Your best girlfriends busting out their dance moves to those bad tunes from the 2000s, grandma and grandpa tearing up as they watch your first dance, wide smiles and those squinty eyes you only get from bear hugs as your family and friends wrap you up in their arms. What is important to you? That is what is important to me. The real stuff. Not the "event" stuff - the reason for the event: your love and the people who love you.
I am Catalina Jean, a detail-orientated minimalist that laughs (too) loudly, dances (very) badly, and provides wedding photography for Oregon, including Bend. Much of the wedding day I'm a fly on the wall, waiting and watching for all those little in-between moments. But I almost always cry during toasts, can't help but get on the dance floor if "Ignition" come on, will rock pinning on those boutonnieres or fixing your hair or carrying your shoes and bouquet all while getting overly excited about some pretty light or killer backdrop.
And while I am a wedding photographer, I also see myself completely as a storyteller. I want every single photo to feel natural, every moment to feel just like when it was captured on the wedding day. I take photographs of the things that are raw with emotion and piece them together to re-create the way the wedding day felt. It is when I am capturing the real stuff, that is when my heart skips a beat and I am reminded that this is my damn dream job. (Like, for real, I still can't believe I get to do this for work.)
And given my love for nature and photography, it'll probably come as no surprise to you that Bend is one of my favorite places for photography and weddings. This desert location decorated with brush and plant life, epic cliffs, and rolling mountains make it a superb place to capture dream-like images of two people in love.
REVIEWS
"Wow, what can I say about Catalina? She is the most talented photographer you will find to document your special wedding day. Her pictures speak for themselves, but I can attest that they are so beautiful, and she expertly captures the emotion, small moments, and precious candids throughout the day. What's more, she is incredibly kind, professional, communicative and a pleasure to work with
- Katy & Quincy
"Is there a way to give someone more than five stars? As many other reviewers have stated, Catalina does a phenomenal job capturing the emotion of your wedding day, but goes above and beyond the call of duty throughout the planning process with her professionalism, attention to detail, and overall positive approach.
- Chelsea + Marc
Getting married in Bend, Oregon?
///
Fill out the contact form to get started…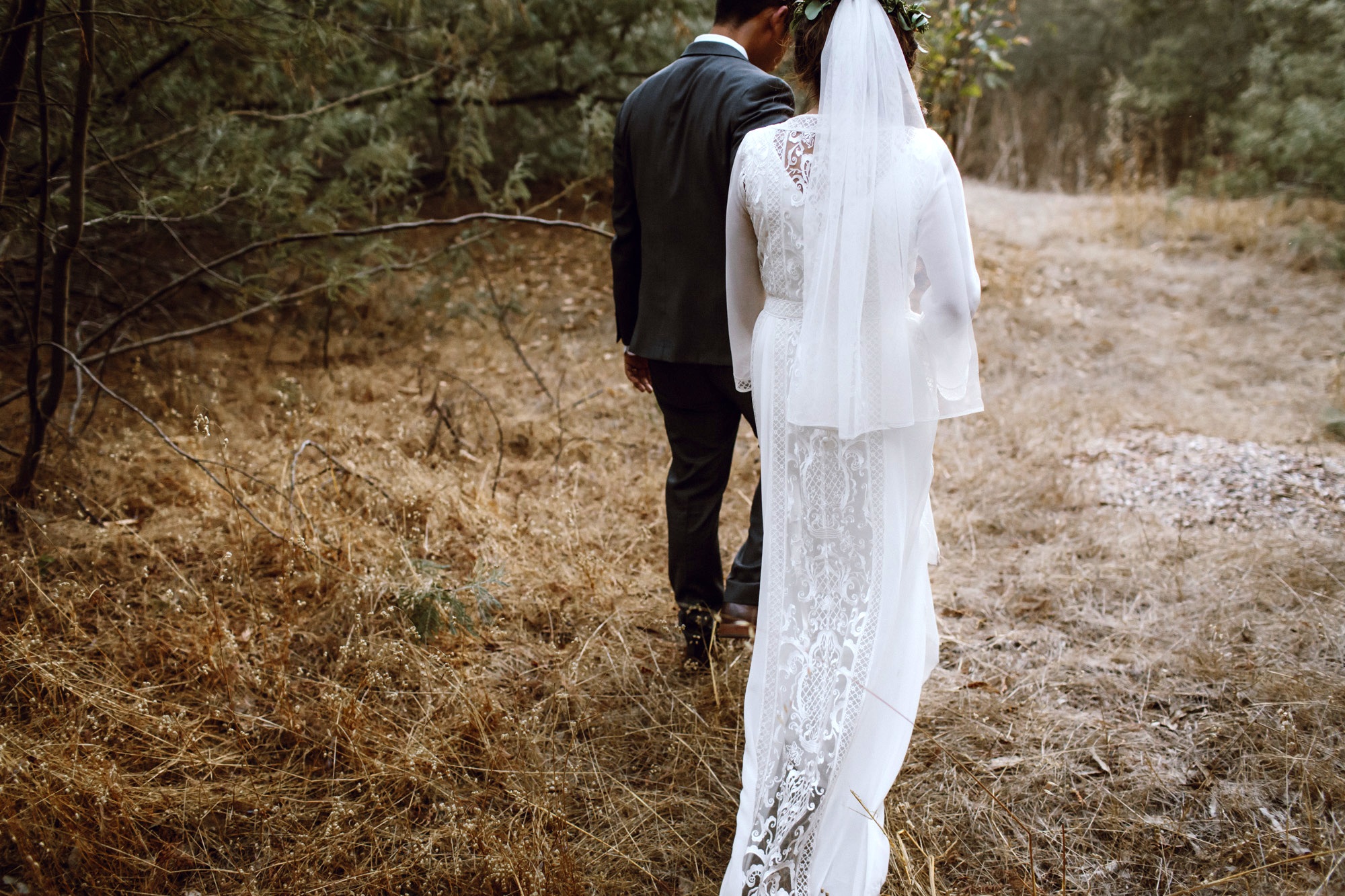 and some tips on must-see places in the area!
| A Little Background on Bend, Oregon |
Bend is a vibrant city with so many outdoors activities. It's an amazing contrast of forest meets high desert, and is now a popular spot for tourists and locals to enjoy all kinds of adventure sports such as mountain biking, skiing, paragliding, and rock climbing.
Not only that, but it's been ranked as one of the 10 Best Places to Live by Men's Journal in 2015! And while it's a relatively small city, it does not disappoint when it comes to exciting ventures and fun.
This location is Central Oregon's largest city and can be found along the Deschutes River. Interestingly, it's one of only three cities in the U.S. with an extinct volcano. How's that for some interesting geography?
With that, here are some super interesting things to know before you visit Bend, Oregon:
| Weather |
The climate mimics that of a desert, and during the autumn and summer you can enjoy dry, sunny days with cool nights. The winter can get rather chilly (with an average temperate of 31 degrees Fahrenheit), with some snow – making it a super rad place for winter sports.
| Things to Do |
Bend is quite well known for their craft beer and wine (with 18 breweries and four wineries!), which means it's an excellent spot to get your tan on whilst sipping on a cold one after a day of adventure.
They also have tons of cool events and festivals that take place year-round, such as wine and cuisine strolls, concerts, art exhibitions, and sporting events (take a look at this handy calendar for upcoming events in Bend).
Personally, I highly recommend:
**Wedding Planning Tip! Ever thought about planning a wedding weekend? You can plan a list of activities on the days before and after your wedding so you will have much more time with your guests. Another benefit is your guests will get to have some fun memories together and get to know each other so no one will be a stranger on your wedding day.
And for those preparing to tie the knot, I couldn't praise the city of Bend enough for its ability to host an inspiring and magical wedding. It's the natural setting your soul craves, surrounded by majestic beauty.
Top Six Wedding Venues in Bend, Oregon
///
a list of weddings venues that I believe are stunning for wedding photography
For more than 40 years, Black Butte Ranch - a 1,800-acre resort, has been a favorite amongst folk in love. In fact, it's been recommended by 98% of couples!
This location prides itself on grand mountain views, farm-to-table prepared cuisines, and exceptional service. What's great about Black Butte Ranch is that they have the means to hold up to 200 of your nearest and dearest, and they're able to host not only your dream wedding, but also your rehearsal dinner and reception party.
They've been awarded four consecutive Couple's Choice awards from Wedding Wire, a well-esteemed wedding information website, and pride themselves on their natural setting and amenities available (such as a spa, two golf courses, and incredible accommodation options), making your big day as stress-free as possible.
| Brasada Ranch |
Take a step inside Brasada Ranch, a family-friendly accommodation spot that doubles up as a dream-worthy wedding venue (voted the Number One Wedding Venue in Oregon in 2016, 2017, and 2018 by Oregon Bride, I might add). They offer indoor and outdoor spaces for a gorgeous wedding, so whether you're looking for a rustic barn-style wedding, or one in the presence of grandeur mountains and the night sky, this venue seemingly has it all.
As far as catering goes, they too offer a farm-to-table style menu prepared by chef Doug MacFarland that is incredibly impressive, and boasts a built-in outdoor kitchen and spitfire grill. For those extra small touches, Brasada Ranch shows off panoramic views of the surrounding Cascade mountains and Central Oregon's high desert, an in-house bar, pristine accommodation, as well as horseback riding for those keen to explore the area more adventurously.
| Sunriver Resort |
This little nook, set a mere few minutes away from the town of Bend, is the perfect way to forget about your troubles and to say your "I do's". It's situated beautifully among pine trees and the Cascade Mountains, and offers views that stretch out as far as the eye can see. Here, you have a choice of five different wedding spaces, and you can opt for an indoor winter wedding, or a star-gazing summer celebration on their neatly presented lawn. You can also choose one of their wedding packages that start at $99 per head, and include basically everything you can think of (including a River Lodge guestroom for the bride and groom).
And as for things to do during your stay at Sunriver Resort, they have a fully-functional spa, a golf course, dining options, meeting spaces, as well as four-star accommodation for you and your guests.
Fancy spending time with the ones you love on a private resort on the Metolius River? Then you're going to have your heart set on House on Metolius. It's a 200-acre piece of land surrounded by forestry and other natural sights to marvel upon. This venue offers various indoor and outdoor spaces for your big day, either on the lawn or in the meadow, or in their Grand Room that boasts river views. They're super flexible, with the means to host an intimate affair or one with over 100 guests, and they have a list of great caterers and suppliers to support your dream wedding.
Additionally, they offer 34 cabin-style accommodation options for those spending the night, some with a private whirlpool tub and a fireplace to warm your already-melted heart.
| Five Pine Lodge |
Marketed as a romantic getaway, Five Pine Lodge is the proud owner of five prestigious awards for their hospitality and style. This location is an exquisite blend of modernity and rustic charm with a 30-foot rock fireplace, and is surrounded by a pine forest and wildflowers. It's, simply put, the perfect way to enjoy your big day with up to 200 of your family and friends.
Five Pine Lodge offers indoor and outdoor wedding spaces as well as catering – which could be an intimate dinner or a full-service banquet. They also have an on-site spa and an exceedingly romantic cabin for the newly weds, complimented with a bedside sunken tub and a fireplace.
| Loloma Lodge |
Found just above the McKenzie River, Loloma Lodge offers a romantic and private space for you and your partner to join souls. And with a Couple's Choice award from Wedding Wire, it's safe to say that this venue is a dream when it comes to saying your "I do's". Loloma Lodge gives its guests the "middle of nowhere" feeling, set in the woods with campfires going at night and cabin-style lodging.
To experience this luxury outdoor wedding, you're looking at $10,000 for a weekend wedding in summer. Alternatively, you could consider a weekday elopement starting at $1,500. And if you're interested in their wedding package, you'll be able to rent out the entire property plus lodging, giving you unrestricted access to the river, gardens, lawn, wooded areas, and more.
Needless to say, choosing one of these top six wedding venues in Bend, Oregon may prove to be quite a challenge, as they're all exceedingly gorgeous. But believe me when I say, which ever you choose, you will not be disappointed!
>> Click on the map to view photos of the wedding venues <<
For more information on any of these magnificent wedding venues in Bend, or to chat about your wedding photography needs, get in touch – I'd love to chat!
If you are getting married and are interested in wedding photography services just click the button to head over to the contact form. We can schedule a chat to create a customized photography package that will be the perfect fit for your wedding day.
///
Catalina Jean loves anything sci-fi, has little sense of direction, and spends her free time snuggling her crazy Boston Terriers. She is a wedding photographer specializing in capturing artistic portraits paired with unique storytelling moments to produce natural, emotional wedding photography.